PeopleQlik #1 Attendance Software in Pakistan Let's go back to the days before the global pandemic… Employees used to punch in and out of the workplace on a daily basis, and the attendance was tracked in the process. Employees would be marked as absent on days when there was no record of punch-ins. Isn't it simple? Definitely, Isn't it simple? Certainly, but then came the pandemic, which caused a dramatic shift to remote work, and tracking employee attendance became one of HR's most difficult tasks. After all, how does HR track employee attendance when they no longer come into the office?
Peopleqlik #1 Attendance Software in Pakistan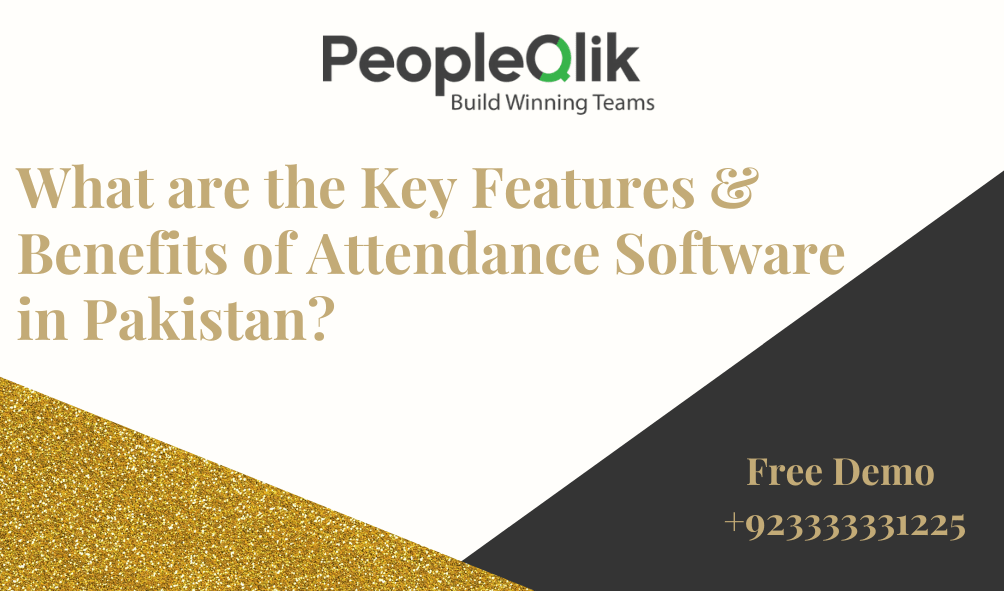 Thankfully, there is a solution to the problem that HR departments are currently facing, and it comes in the form of a modern employee attendance tracking system. In layman's terms, it's software that not only automates the entire process of attendance management to prevent errors but also helps HR teams to properly control employee attendance during remote work periods.
Here, we'll examine the features of one such employee attendance management system, Digital HRMS, as well as its advantages.
Employee Attendance Software in Pakistan: Key Features
Integration with the existing Access Control System is seamless.

Attendance is simple. Requests for regularisation and work from home

Setting up leave types according to corporate policy is an option.

Leave credit rules and flexible shift management

Leave and attendance records that can be customized and are comprehensive

On the Digital HRMS dashboard, leave the details and the calendar accessible.

It is possible to apply for leave immediately from the dashboard.

Employee leave details can be viewed by the manager on the Digital HRMS dashboard. Employee work hours are viewable on the Digital HRMS dashboard.

Employee portals that you can build yourself

Email Alerts and detailed reports
In addition to the characteristics described above, attendance System in Pakistan has extra functionality that was created to meet the needs of today's working environment, which includes employees who work from home.
Digital Remote Employee Attendance Management in Pakistan
A 'Check-In' button appears when a user logs into the Digital HRMS platform. To begin logging their working hours on the system, the user must click the 'Check-In' button.
The 'Check-Out' and 'Break' buttons display on the screen once the employee has checked in. When taking a break during working hours, the employee can use the 'Break' button. When the employee clicks the 'Check-Out' button at the end of the day, the total, as well as actual working hours, are displayed on the screen.
*Actual working hours refer to the total number of hours worked by an employee, excluding break time.
Employee Attendance Management in Pakistan Key Benefits
So, how does a company profit from an employee attendance management system like Digital HRMS? For 90 days, get full access to a digital HRMS with real data for free. Now is the time to begin your free trial.
Errors are not a possibility
One of the most significant advantages of an automated employee attendance software in Pakistan is that it eliminates the possibility of errors. Discrepancies in attendance have a detrimental influence on payroll and employee morale.
Ability to apply for leave and maintain regular attendance
Another benefit of an automated employee attendance management system, such as Digital HRMS, is that it allows employees to apply for leaves and adjust their attendance as needed directly from the platform. Additionally, the approval process for leave requests has been streamlined, decreasing employees' reliance on HR for basic administrative chores.
HR Data Protection
HR data is made up of massive amounts of data, the majority of which is made up of personal information about employees. This information must be safeguarded against unauthorized access and misuse. 
Analytics Access
Finally, an automated employee attendance management system such as Attendance Software in Pakistan offers built-in analytics capabilities that allow the HR team as well as employees to generate automated reports on leave, attendance, and working hours with just a few clicks. This is a must-have feature for efficient and accurate data analysis.
Contact Us On Email For Free Demo
Face Attendance Solutions In Pakistan
face Biometric in Pakistan
Face Attendance In Pakistan
Facial Attendance System In Pakistan
Voice Attendance Software In Pakistan
Facial Attendance Management In Pakistan